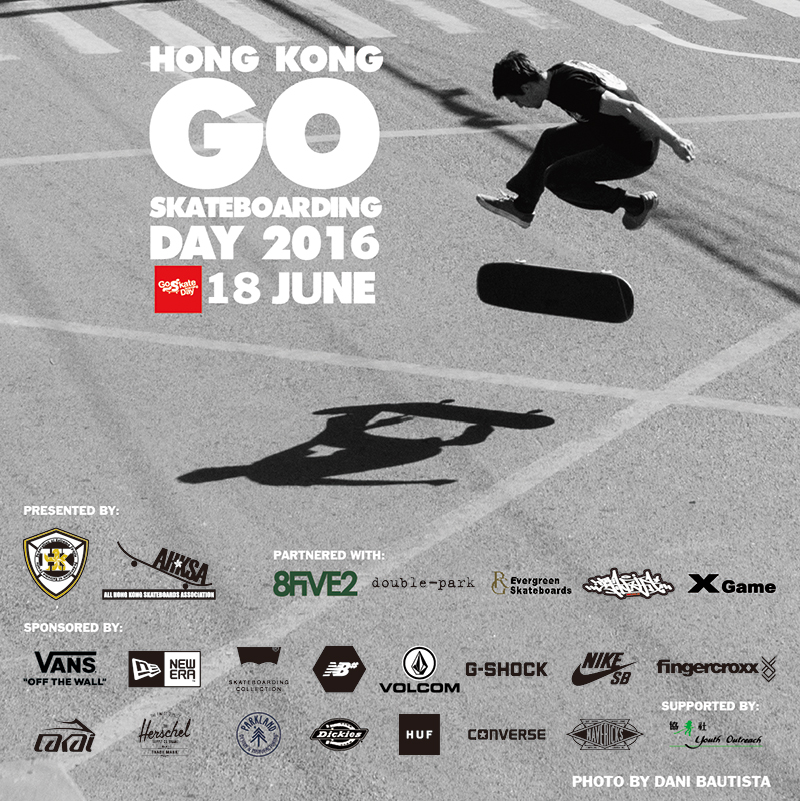 2016香港滑板日暨香港滑板比賽,將於2016年6月18日星期六在將軍澳極限運動場舉行。
滑板運動已正式被確認為2020東京奧運會的運動項目之一,香港極限運動聯會(XFED HK)和亞洲極限運動聯會(AXF)
已經確認對是次 "香港街頭滑板比賽" 為香港區的官方認可賽事,運動員成績將納入亞洲滑板運動的積分排名。
因此,在今年的香港滑板比賽,香港極限運動聯會及香港滑板協會將聯合主辦 "香港街頭滑板大賽"
本會將派出兩名優勝選手參加今年八月份在韓國舉辦的亞洲極限運動錦標賽。
我們希望,這將是香港滑板運動員的第一步以此進入亞洲排名,如國外的滑板街頭聯盟般,獲取資格參加2020年東京奧運。
—
The HK Go Skateboarding Day and HK skateboarding contest will be held on 18th June, 2016 at Tseung Kwan O Skatepark.
Skateboarding has just been confirmed as a sport in the upcoming 2020 Olympics in Tokyo.  Our Hong Kong Federation and Asian Federation have been aligning ourselves towards events leading up to the Olympics as many existing regional contests such as Street League would ultimately channel into the 2020 Tokyo Games.
Therefore, for this year's Hong Kong Go Skateboarding day the Hong Kong Federation of Extreme Sports and All Hong Kong Skateboard Association are hosting the HONG KONG STREET SKATEBOARDING CONTEST, as a way to introduce a ranking system, and based on this, send two winning HK skaters to the Asian Championships that will be held in South Korea in August 2016 as official HK team representatives.
Hopefully, this will be HK skaters first step into the Asian Ranking that can lead into international games like Street League and ultimately the Olympic Games in 2020.